Most of the people today prefer travelling by their own vehicles rather than using public transport. As such, we see a constant increase in the number of people buying private transport vehicles like cars, scooters and bikes. When you purchase a vehicle, it brings a lot of happiness and the vehicle is treated like a family member. However, with the growing number of cases of vehicles being stolen, this happiness soon turns into a headache for the vehicle's security. Similarly, there are times when you visit an unknown location and wish there was help available to prevent you from getting lost.
VEHICLE TRACKING AND SECURITY
If you are an organization or a fleet owner, you might have faced a similar dilemma. In the absence of tracking systems, it becomes extremely difficult for you to track the location, speed, position of your vehicles and the direction of travel. It also becomes extremely difficult to locate the exact location of your inventory and the driving behavior of your employees which often results in reduced productivity, increased costs and increased response time for delivering supplies.
THE SOLUTION
The good news is that one no longer needs to worry about tracking their vehicle location, vehicle getting stolen, tracking their inventory or getting lost at an unknown location. We always strive to work towards making people's lives happier and as such, we bring a Real Time Tracking Device that will help people to stay in touch with their vehicle always and make them forget about all their apprehensions.
PISTA GPS Tracker comes with a host of awesome and unique features like Live Vehicle Tracking, Real Time Tracking, Show Vehicle Trips Per Day, Parking Notification and Fuel Detector along with other advanced features that provide you with peace of mind.
A GLIMPSE OF SOME OF THE FANTASTIC FEATURES OF PISTA GPS TRACKER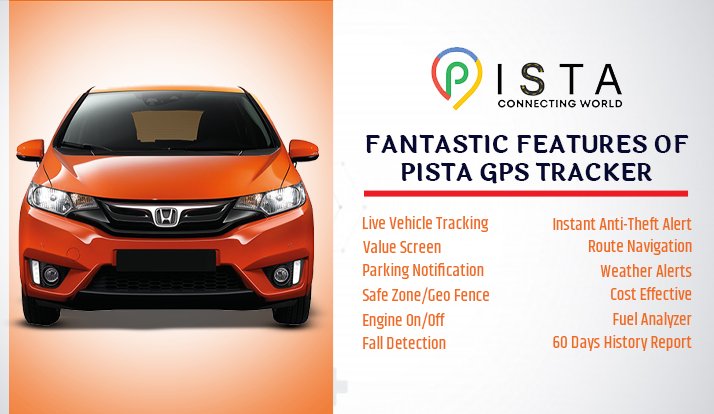 With the help of PISTA GPS Tracker, you can track the live location of your vehicle and stay attached and connected to your vehicle by monitoring the location of the vehicle at all times.
Lately, there has been a considerable rise in cases of theft, which is not a good news for any vehicle owner. PISTA GPS tracker comes with an anti-theft alert feature that raises an alarm whenever someone tries to steal your vehicle. It also helps in the recovery of stolen vehicles, should the need arise.
Find out all the notifications, maps and information on your phone screen. The value screen makes tracking your vehicle easy.
With the help of PISTA GPS Tracker, you can now check whether your vehicle's engine is on/off from the comfort of your home.
PISTA GPS Tracker offers an excellent feature of route navigation so that people don't have to worry about getting lost at any unknown location.
Get notified whenever someone tries to steal or damage your vehicle while it is parked.
Fuel Analyzer

Allows Organizations and Fleet owners to track the location of their inventory, thereby ensuring timely delivery of supplies.

Helps Organizations and Fleet owners to monitor Employee driving behavior
PISTA GPS Tracker enables organizations and fleet owners to monitor the driving behavior of their employees. This leads to reduced costs, which might arise due to the inappropriate driving behavior of some employees.
PISTA GPS Tracker also tracks weather reports so that you can plan and prepare for your trips accordingly.
PISTA GPS Tracker helps you track your daily work reports so that you can perform well on the farm.
Best in Class Device with 21 months Warranty
PISTA GPS Tracker offers a 21 month warranty to guard you against any manufacturing defects, repairs and losses suffered.
Through this feature, you can create a safe zone for your vehicle. PISTA GPS Tracker will send a notification on your phone whenever you move in or out of your safe zone..
PISTA GPS Tracker indicates vehicle fall detection on your device while sitting at home, which keeps you safe.
With PISTA GPS Tracker, you can track your vehicle's 60 day history report on your device while sitting at home. If you want details about any day, you can check your GPS tracker for the details.
Last, but not the least, PISTA GPS Tracker is reasonably priced, which is not too much a cost keeping in mind the many features and peace of mind that it provides.
HOW DOES PISTA GPS TRACKER WORK?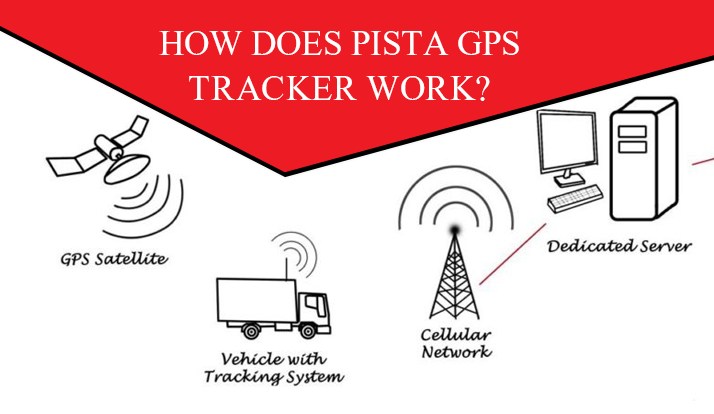 PISTA GPS Tracker is a user friendly device which is easy for anybody to use. The tracker is installed in your vehicle or any other machine. All you need to do is to download an application called "PISTA GPS Tracker", which is available on Playstore. Add your phone number. You will then get a verification code that needs to be added to the application. You are now ready to track your vehicle with your smartphone, anytime, anywhere.
In today's world, GPS tracker is an essential device to stay connected with your vehicle. If you are looking for a technologically advanced system, then PISTA GPS Tracker is the best deal for you.